We can customize our operation to fit the needs that you require to deliver the quality of finish that is expected in today's market place. By consistently communicating with you, we ensure your products are finished to your specific requirements. Their vision combined with a stellar reputation for uncompromising quality is why their list of clients continues to grow. At Hi-Tec Finishing, 100% satisfaction is not a goal, but a guarantee. Contact us for your next finishing need.
Zero Defect Finishing
Hi-Tec Finishing, is a mature and experienced company in the contract finishing industry. The company's ground floor approach has enhanced its reputation as a dependable high quality contractor.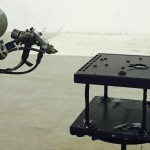 Quality is derived from the use of customer approved standards, industry standards and print specifications in all areas of the operation. You will never pay for a part that does not meet your high acceptable standards of quality.  
The accepted quality level of  Hi-Tec Finishing  is defined as: that level of quality which customers anticipate, expect and above all, deserve. Using this approach, our goal of a zero defect operation is achievable.
All Projects Matter
We have the capacity and experience to work with a variety of materials. Whether for prototype, short run, or long run, all jobs are important to us.